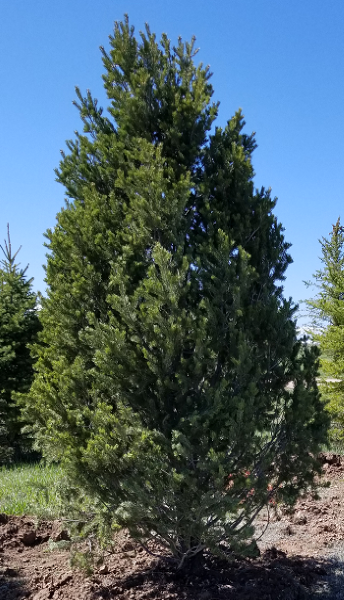 The Pinyon Pine is a slow-growing tree that does not require much irrigation after it is established. It has single blue-green needles and grows in a pyramidal, rounded shape. At maturity, it reaches a height of 25'-50' and a spread of 20'-40'. The Pinyon Pine grows in Hardiness Zones 6-8 at a rate of less than 12" per year.
The Pinyon is a good choice for dry soil. Full sun is the perfect condition for the tree, so it needs to get a minimum of 6 hours of unfiltered direct sunlight daily. It's also a suitable choice for homeowners who pursue disease-resistant trees.
Pinyon Pine Trees for Sale in Colorado
As a leading supplier of natively grown trees in Colorado, GESCO Nursery offers Colorado Pinyon Pines for sale. Using our Pinyon Pine trees, you can create the most beautiful, productive, and healthy landscapes around your neighborhood.
We use the drip irrigation method to create a solid foundation for the evergreen Pinyon Pine tree that keeps its foliage throughout the year. We grow the Pinyon Pine trees in Colorado to ensure you get the adaptability needed to create an appealing landscape even in hardy zones.
Pinyon Pine Transplanting
Apart from offering Pinyon Pine trees for sale, we provide transplanting services. Whether you purchase one mature Pinyon Pine or a dozen, we will help you move and transplant them. Using our state-of-the-art spades, we have successfully helped hundreds of homeowners transplant trees over 30 feet tall. These trees have a high survival rate, provided they receive proper aftercare.
Moving trees using our modern spades helps protect the root system. On the other hand, drip irrigation reduces shock, helping the transplanted Pinyon Pine tree acclimate to start off in the best way possible. Once purchased and installed, our trees are guaranteed for one year provided they are installed with drip irrigation to ensure a successful transplant.
Pinyon Pine Trees for Landscapers
Trying to find Pinyon Pine trees for sale in bulk? At GESCO Nursery, you will find many wholesale deals to help you efficiently complete your commercial landscaping project. Fill out our contact form to find Colorado Pinyon Pines for sale that will make your home stand out with elegance and beauty.