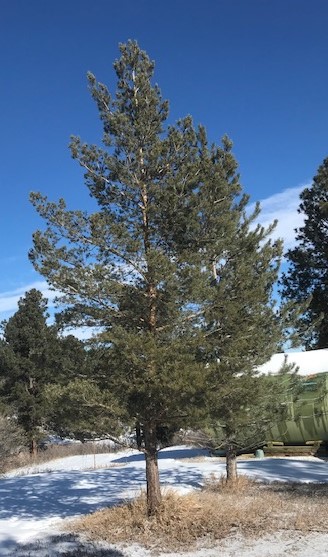 Large Scotch Pine trees are remarkably beautiful, holding their needles longer than many types of pine trees, with a wider spread that can reach 40'. Also known as the Scots Pine, mature Scotch Pine trees are exceptional at enduring in a wide variety of climates, making them a popular choice as windbreaks and property line trees. Scotch Pine trees are also popular as Christmas trees.
Scotch Pine Trees for Sale in Colorado
Why are Scotch Pine trees so popular in Colorado? The Scotch Pine is able to easily survive in a range of climates, making it perfect for the frequently changing weather of Colorado. GESCO's mature Scotch Pine trees are natively grown in Colorado and are already adapted to the local climate, meaning that you get exceptional performance and adaptability when you purchase one of our Scotch Pine trees. A Scotch Pine tree grows well in Hardiness Zones 30, and you can expect it to grow approximately 12" – 24" per year until it reaches full maturity at up to 60' tall.
Scotch Pine Tree Transplanting
In addition to offering the only natively-grown mature Scotch Pine trees for sale in Colorado, GESCO Nursery offers professional mature tree transplanting. We use state-of-the-art tree spades to safely transplant and transport our natively-grown mature trees, and as long as they are installed with proper drip irrigation we guarantee our trees' survival for one year from the date of transplant.
Contact GESCO Nursery to find a beautiful Scotch Pine tree for your property today!
Scotch Pine Trees for Landscapers in Colorado
At GESCO Nursery, we offer wholesaling options for mature tree reselling to reputable landscaping providers and property management companies. Are you looking for a source for the best mature Scotch Pine trees in Colorado? Contact us to learn more.