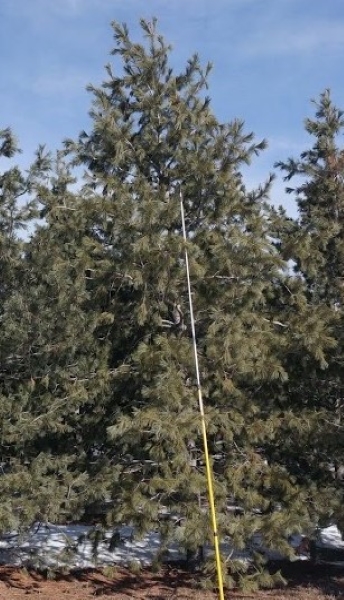 White pine trees are North America's biggest conifer and feature needle-like foliage that forms into little clusters, making branches resemble bushes. They're evergreen, meaning that the foliage will stay green and functional throughout the year. This makes them a staple in Colorado because they can survive the harsh winters and low temperatures.
Mature White Pine Trees in Colorado
White pine trees for sale get very popular around Christmas time, as their graceful, rounded pyramid-like shape is ideal for Christmas trees. However, Christmas isn't the only time you should consider looking for a mature white pine for sale. White pines are an ideal screen for a windbreak, and at anywhere from 50'-80' tall with a 20'-40' spread, they can produce a lot of shade.
White Pine Trees
The White Pine features long, slender blue-green needles that can reach 5" in length. The tree grows in an oval, pyramidal shape and can reach a height of 50'-80' and a spread of 20'-40' at maturity. This means a mature white pine for sale will be pretty big! This kind of conifer grows in Hardiness Zones 3-8 and has a fairly rapid growth rate of up to 24" per year. The white pine acclimates well to a variety of soil types but prefers moist, well-drained soils and is sensitive to air pollution, road salt, and soil compaction. The white pine will require slightly more watering.
Caring for White Pine Tree in Colorado
If you're looking for a white pine tree for sale, you should know the basics of care so you can keep it healthy. You'll need to water it a lot when it's younger but once mature, should do with an inch of water every week. They're fairly easy to care for but are sensitive to air pollution, road salt, and soil compaction. The white pine does well in the sun but will certainly appreciate some shade in warmer environments. Because it can get so large, you'll want to give the tree a lot of space or prune it regularly.
Looking for a white pine tree for sale? Contact us today and tell us what you're looking for!